Full Metal Kits - Airsoft Guns For Tactical Combat Simulation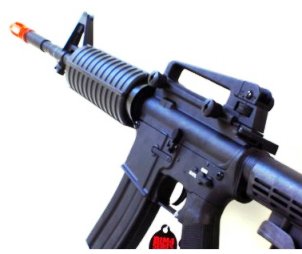 Airsoft is a fun hobby - you and a group of your friends run around a protected wooded lot and shoot one another with soft plastic rounds.
In essence, playing soldier with full safety gear, getting exercise, and the thrill of combat without risking any injury more serious than a sprained ankle.
It's a great way to get the heart rate going, and an even better way to get that adrenaline thrill of playing a competitive game.
For some people, particularly those with police backgrounds and military backgrounds, it's more than just running around and having fun.
It's retaining skills they spent a lot of time learning on the course of their careers. For those people - and for people who like to collect replica weapons - full metal Airsoft weapons are typically the option of choice.
What Are Full Metal Airsoft Guns?
A full metal Airsoft weapon is one that's made with parts that are machine from the same steel and composites that are used in making real world weapons.
Rather than being made out of lighter weight ABS plastic, full metal weapons weigh the right amount, which means that your hand-body skills for aiming the real weapon still translate over to Airsoft competition.
(If you're using to a full weight, full metal weapon, going to a plastic Airsoft version will throw your aim off - usually high - because you expect the gun to have more momentum than it actually does.)
Full metal Airsoft guns hit the market in the mid '90s, and really took off at the turn of the century, when they began to get more realistic in their appearance.
From a utility standpoint, they're heavier (which is something of a downside) but more realistic in play, and generally more durable.
Treatment that might break a plastic Airsoft gun won't even slow down a full metal model. They are also more generally expensive.
Types Of Full Metal Airsoft Guns
Most full metal Airsoft guns are electric guns; this is because the weight of the battery and piston mechanism means less counterweighting needs to be done.
A few (mostly sniper rifles and shotguns) are spring guns, where the higher rate of fire isn't necessary.
There are also full metal Airsoft pistols, in both automatic and revolver format; they tend to have very short firing ranges due to the small gas cannister travel inherent in the design; these are usually electric gun varieties.
An extension of the full metal Airsoft end of the hobby is the "actual magazine" competition standard. Normal Airsoft magazines have much higher capacities than real world magazines for the guns simulated; for example, the M16A2 rifle has a 30 round clip; the Airsoft equivalent has nearly 400 rounds in the clip!
Furthering this are taking magazines that not only have the right number of rounds, but weigh the right amount for a fully loaded clip. This level of simulation is becoming more and more popular as people try to make their hobby realistic.
Most of the people seriously into full metal Airsoft go for gas action guns on the high end. The reasons for this are because gas action guns can use the full blowback and self cocking mechanisms that a realistic gun has.
This does reduce the rate of fire when compared to the full electric guns, which means that everyone in a given competition area will want compatible gear.
The ultimate in realism for this sort of play is the hybrid gun. A hybrid gun is a gun with an electric piston motor, but each round is completely enclosed within a cartridge with a cap.
When the trigger is pulled, the cap goes off, firing the round. Gas blow back forces the slide back, and the gun even ejects brass like a real gun does. When combined with 'full weight' magazines, this is very much like using a real gun in a real combat situation, including the noise of firing.
Full Metal Airsoft Guns - Summary
If you're into Airsoft, and are looking to step up your game play with regards to realism or military simulationism, check to see if your local play group agrees with this - chances are, some of them do.
Full Metal Airsoft Guns are one of the better ways to get the full experience of personal combat with firearms, both in weight, aim point and number of shots between reloads.