How To Store Your Airsoft Gun(s) Safely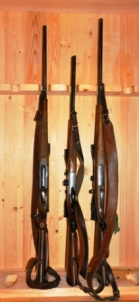 When it comes to storing an airsoft gun, it certainly would not hurt to treat it as if it were a real gun.
That is, the same levels of safety that one would employ with storing a real firearm should be employed when dealing with an airsoft gun.
This will ensure both the safety of others in the home as well as maintaining the proper care of the Airsoft gun itself.
Remember, with proper care, an airsoft gun can last many years. This should be the greatest endorsement of all for proper care.
Some may wonder if the composition of the guns makes any difference in the storage. Some guns are made with plastic and others with metal. There are not all that many differences in terms of how they should be cared for.
Yes, plastic needs to be kept further away from heat and it is also more prone to scratches, but the primary storage tips will not differ very much.
Firstly, it is wise to pick a specific area in the house where all airsoft guns are to be stored. This will keep the confusion level low as far as knowing at all times where your airsoft guns actually are.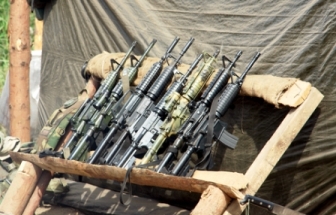 If you are like most owners, you probably have a large collection of several airsoft guns. When the guns are spread all across the home in several rooms, it can make keeping an accurate inventory of them difficult. This is how guns get either lost or misplaced. Keeping them all in one centrally located area will certainly reduce this problem.
Of course, even if you keep them in a particular room you will want them secured. You definitely do not want to have a number of guns out in the open where anyone can grab them. This is how injuries occur.
Yes, there will be some that downplay the potential injuries airsoft guns can cause. However, it is important to never assume any type of projectile weapon does not present a clear chance of injury. Such assessments can be very dangerous and that is why they need to be avoided.
For those of you who can afford it, it would be helpful to purchase an actual gun cabinet. These cabinets will keep the airsoft guns under lock and key and in a specific secured spot.
Also, these cabinets can come with glass or plastic windows. That will allow you to see exactly where a specific gun is if you need it. And, while some may not think of such a cabinet in this manner, they can add to the decorative look of the home.
If you are unable to purchase a display cabinet, you could keep the guns in a lockbox, safe, or trunk. It is of vital importance, however, that you place some sort of buffer between the guns.
Even something as simple as a piece of cloth will do. You do not want these guns to rub against one another because that would be an invitation for scratches and other damage.
And, most importantly, no matter where you store your airsoft guns, be sure their storage container remains locked! This is the most important aspect of all since this will maximize proper safety.